AT LEAST 250 DEAD IN ITALIAN EARTHQUAKE DISASTER
GOOD LUCK TO ALL OF THE EMERGENCY SERVICES AND VOLUNTEERS WHO HAVE SAVED, AND ARE STILL TRYING TO SAVE, THE TRAPPED VICTIMS OF THE ITALIAN EARTHQUAKE TODAY!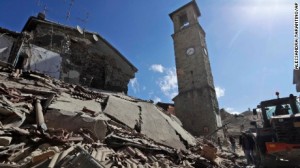 IT IS SAID THAT THE FIRST 72 HOURS ARE THE MOST CRUCIAL, BUT PEOPLE HAVE BEEN KNOW TO SURVIVE FOR A LOT LONGER UNDER THE RUBBLE FROM AN EARTHQUAKE. IN MAY 2013, A WOMAN WAS PULLED FROM THE RUINS OF A FACTORY BUILDING IN BANGLADESH 17 DAYS AFTER IT COLLAPSED.
ONE MAN SURVIVED FOR 12 DAYS UNDER THE RUBBLE OF A SHOP IN JANUARY 2010 AFTER THE HAITI EARTHQUAKE.
WE WISH EVERY SUCCESS TO ALL OF THE RESCUERS. I ONLY WISH WE WERE CLOSE ENOUGH TO HELP YOU!  ARE YOU?
AMSTERDAM FASHION WEEK  -  EDWIN OUDSHOORN  -  "HANG ON"  -  AW 15